Many people only know Nevada for one thing of course: Las Vegas. But in fact, there are so many natural beauties in the wild of Nevada that get little attention from the majority of travelers. At Virgin Valley Food Mart, we see many people traveling out of Las Vegas to Utah and vice-versa, and we know about a few sights that are not too far from our station that are definitely worth a visit. In particular, Whitney Pockets and Gold Butte are two destinations that are near Mesquite, NV and can enrich your journey on your way to or from another city. 
Where to Find Gold Butte
Coming from St. George or from Las Vegas, the Gold Butte area can be found very close to Mesquite, off of the I-15 interstate taking exit 112 toward Riverside. Continuing toward Gold Butte will take you about 20-25 miles with plenty to see along the way. You'll find the Virgin River running alongside you for part of the drive and you'll even see a peek of Lake Mead when you almost reach the halfway mark of your trip to Gold Butte. Most people would recommend parking in the lot not far from the main trailhead to get your exploration started. As with many natural sites which don't get the attention that a destination like a National Park might, the roads can be a little rough during your drive out to Gold Butte. Be careful traveling on the roads to avoid major bumps and as always, just take your time with things. The roads there are paved, but not paved like city streets or highways with the comfort that we get accustomed to with smooth roads.
Gold Butte area is a meeting place for all the surrounding deserts and wildlife areas in one - it is in between the Virgin River and Colorado, with the Great Basin, Mojave, and Sonoran Deserts coming together at the site. Â 
 
What You'll See
The Gold Butte area is a large expanse of about 360,000 acres of the wild - as BLM land. Part of the area is also home to the desert tortoise, which has been in past years one of the Critical Environmental Concerns as the natural formations, historically significant artifacts, and wildlife habitats here are definitely something to preserve. As with much of the Nevada desert, rock formations with incredible colors can be seen throughout both areas of Gold Butte and Whitney Pockets. Many visitors comment on the spectacle of color that they see within these beautiful formations - mixtures of sandstone in yellows, reds, and whites really contrast beautifully against the bright sun in the clear blue sky up above. Seeing these colors alone might make the journey worthwhile when passing through or visiting Mesquite. During your exploration, you'll also catch the view of the man-made concrete dam to catch runoff water in Gold Butte.
 
Getting to Know Whitney Pockets
If you are an amateur, professional, or just enjoy exploration as a hobby, visiting Whitney Pockets delivers some once in a lifetime things to behold. The natural setting is beautiful and majestic to take in, but humans have been a part of this part of nature for a very long time. At Whitney Pockets you will find many artifacts and historic petroglyphs from Native American tribes long ago who inhabited and traversed the area.
In additional to the historic man-made etchings and visuals, the rock formations have, over time, created intricate and interesting caverns and windows throughout the rock. You'll see many deep fissures in the sandstone, with plenty of arches and natural wonders that erode and appear over many years for us to witness and enjoy. This area truly is home to very unique pockets to discover throughout the hike through the valley.
During your hike through Gold Butte and Whitney Pockets, you won't have to deal with much in the way of difference in air pressure. Being at about 3,000 ft elevation, the hike should not change much in terms of noticeable elevation - meaning, you likely won't be unexpectedly out of breath during your excursion. The whole of the journey of the hike should be no more than about three miles, so it would definitely be something to do in a day trip.
 
How to End Your Desert Adventure
After spending some time in the little-known deserts of Nevada and catching up with some of the beauty there, it is a short trip back to Mesquite where you can enjoy all the comforts of home. If you plan to stay in Mesquite, there are plenty of hotel accommodations in the area - across from Virgin Valley Food Mart, you will find the Virgin River Hotel & Casino. If you're travelling by RV, Virgin Valley Food Mart is the perfect location to park and stay overnight for just $1 per hour and enjoy free wifi. Many of our customers park at our facilities and make their way to the Virgin River for some fun before heading back out on the I-15 Interstate. It's a comfortable alternative to booking a room in a hotel and definitely a cost effective option.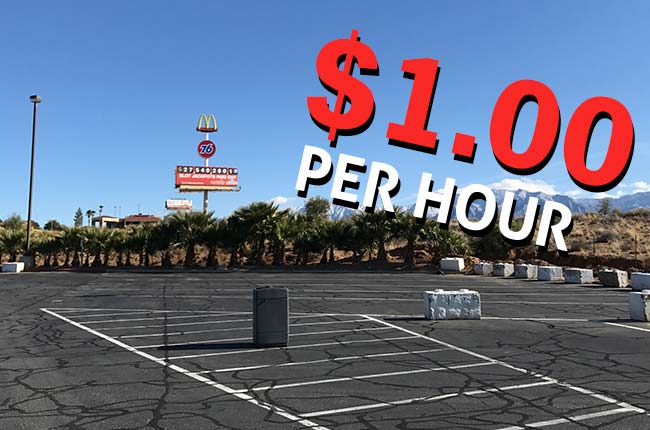 At Virgin Valley Food Mart, you can gas up at our 76 station, only pumping quality gasoline for your vehicle. Make sure to stop in to load up on snack and beverages in our food mart before getting back out on the road as well! You can find diesel fuel at our station as well, with ample space for large trucks or RVs. There are so many natural beauties out there to see at some point in your travels, so plan ahead and make the time to see Gold Butte and Whitney Pockets near Mesquite, NV - you will not regret the choice to spend a little extra time with all the views of painted desert you'll find.
Looking for more tips about exploring Mesquite, NV or how to plan for your trip? Stay up to speed with Virgin Valley Food Mart for new tips, places to visit, and how to's for your travels through Nevada. Follow us on Facebook to see the latest posts, or contact us directly if you have questions about how to plan your trip or when to make the stop at our station in Mesquite, NV. We look forward to meeting you and helping you on your journey.